Aspire to Inspire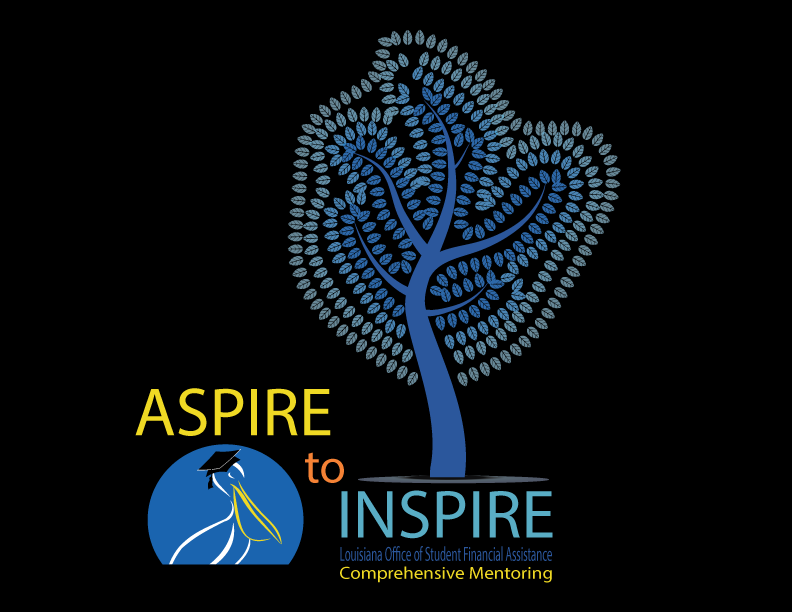 When you refuse to become a product of your environment, you can be anything.
Aspire to Inspire Comprehensive Mentoring program was founded in 2015 by then regional coordinator Khristopher Hobbs. Initially, Aspire to Inspire started off as one-on-one mentoring and it has now grown on to small group and large group mentoring having served hundreds of mentees across the state of Louisiana.

The mission of Aspire to Inspire is to produce confident, tenacious, open-minded mentees who discover their own truth and become proud, productive leaders of society.






The goals of Aspire to Inspire are to:

• Create a positive, safe environment where the mentees can feel encouraged, regardless of who they are and in turn, encourage their peers.
• To encourage the mentees to develop confidence to pursue their personal and career aspirations.
• To advise the mentees to make informed decisions on their post-secondary options using the LOSFA 5-Point Match.
• To encourage our mentees to successfully graduate from high school with their high school diploma and guide them to what is next (post-secondary institutions, work force, etc.).
• To provide parents/guardians with support to adequately assist their students with their academic, personal, and post-secondary needs.


• In 2015, all 50 of the mentees graduated high school and 39 of them went on to pursue post-secondary education. The A2I Mentee of the Year, JaCory Jones, received a full academic scholarship to Southeastern Louisiana University.
• In 2016, all 64 of the mentees graduated high school and the A2I Mentee of the Year, Samps Taylor, who received a full academic scholarship to Alcorn State University, and Khristopher Hobbs, Founder/Lead Mentor, attended the First Lady Michelle Obama's Beating the Odds Summit at the WHITE HOUSE.
• In 2017, we began mentoring in middle schools, and the A2I Mentee of the Year, Nicholas Cobb, received a full academic scholarship to Louisiana Tech University.


If you or someone you know would like to learn more about the services he offers, please feel free to contact him by phone (225-219-9372) or email (Khristopher.hobbs@la.gov).


"Mr. Hobbs is a huge inspiration. He has helped me and my school greatly since he came the first time. I wouldn't have made it through the application process, do my FSA ID or apply for scholarships without his help and encouragement. We wish he could come out here more. I believe he truly cares and makes me believe that I will make it out of here one day."

Samps Taylor in Saint Helena College & Career Academy