Aspire to Inspire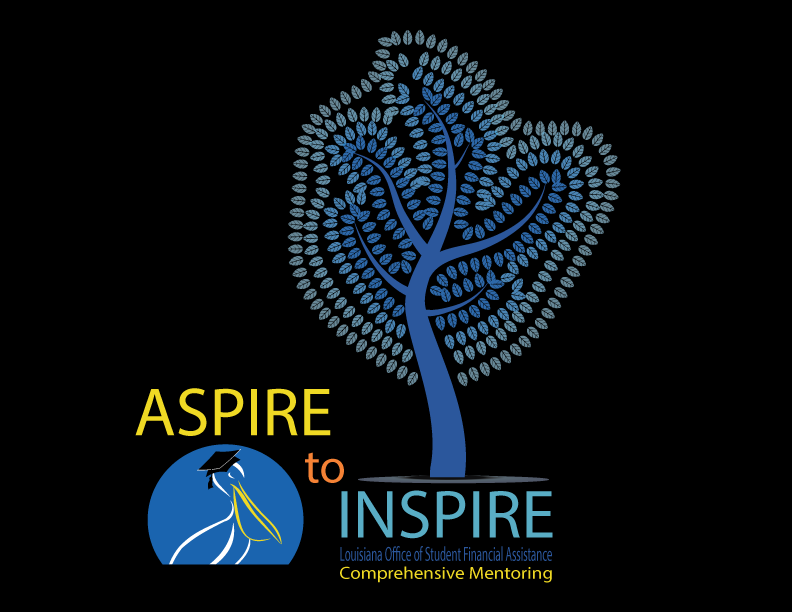 Mentoring the Leaders of Tomorrow
Aspire to Inspire is a new LOSFA initiative developed by LOSFA coordinator Khristopher Hobbs. The program provides mentoring services to those students who are identified as needing more guidance to reach their postsecondary goals. These students would benefit from an ongoing supportive relationship with the mentor, where the mentor would meet regularly with the assigned students (mentees). Meetings may be on or off campus and either during or outside of the school day and with the parent's permission. The program's goal is to provide support and encouragement to students across the state. Mr. Hobbs enjoys building consistent and trusting relationships with mentees that provide opportunities for students to reflect, learn about themselves and discover their own truths. In 2014-2015, all 50 of Mr. Hobbs mentees graduated high school and 39 of them are currently in post-secondary education.

Mr. Hobbs is able to act as an advocate for his mentees. He stays involved in their lives and is always ready to celebrate their successes both inside and outside of the classroom. By getting to know mentees on a personal level, Mr. Hobbs is able to connect with students in a way that teachers and other faculty members often cannot. Robert Mitchell, a graduate of L.B. Landry-Walker High School, feels he is better prepared for his future because of Mr. Hobbs. When asked about Mr. Hobbs, Mitchell said "he goes over and beyond the call of duty." Mr. Hobbs always reminds his mentees that when they refuse to become a product of their environment, they can be anything.

MDRC (Manpower Demonstration Research Corporation) published the Mentoring At-Risk Youth Project. Students who meet regularly with their mentors are 52 percent less likely to skip schools than their peers. Students with mentors also reported more positive beliefs about their abilities to succeed in school and demonstrated this by improving their grades. Mentoring has been linked to positive emotional/physiological benefits and peer relationships. Mentors can also be a vital resource for students who are seeking professional resources and wanting to build relationships with different organizations.

In addition to providing support and encouragement, Mr. Hobbs serves as a positive role model and helps mentees recognize their own potential. He also helps mentees set positive goals toward postsecondary achievement. Specific activities include:
helping students complete the FAFSA, FSA-ID, college applications, ACT Profile and apply for scholarships.
self-esteem/perseverance encouragement.
academic tutoring
resume assistance
If you or someone you know would like to learn more about the services he offers, please feel free to contact him by phone (225-219-9372) or email
(Khristopher.hobbs@la.gov).
"Mr. Hobbs is a huge inspiration. He has helped me and my school greatly since he came the first time. I wouldn't have made it through the application process, do my FSA ID or apply for scholarships without his help and encouragement. We wish he could come out here more. I believe he truly cares and makes me believe that I will make it out of here one day."

Samps Taylor in Saint Helena College & Career Academy