2016 LFOS Training Workshop
The Louisiana Office of Student Financial Assistance (LOSFA) is hosting the LOSFA Field Outreach Services (LFOS) Program training on Monday, August 1st from 8:30 a.m. to 3:30 p.m. and a counselor financial aid training workshop on Tuesday, August 2nd from 8:30 a.m. to 2:15 p.m. in the Galvez Building. East Baton Rouge Parish Schools will also have an additional FAFSA Challenge Grant training from 2:15 p.m. to 3:30 p.m. on Tuesday.
LFOS Program training is addressing topics which include: LOSFA's 5-Point Match, Administrative Processes, Program Initiatives, Form Completion & Reporting and a question and answer session.
Go Alliance Academy (GAA)
The Go Alliance Academy is a special online college access training program sponsored by the Southern Regional Education Board (SREB). It gives counselors, teachers and college access professionals the additional knowledge and skills that will assist them in getting more students on a path to college. The course offering is offered in a hybrid format, online, and face-to-face. Go Alliance is a professional multistate network that works in concert with school counselors to increase high school graduation rates, as well as access to post-secondary education and degree completion, particularly for those who would be the first in their families to enroll. LOSFA is the state administrator for the Louisiana Go Alliance Academy.
Use the Go Alliance Academy Brochure to learn how it can benefit counselors, teachers, and college access professional in helping students on their path to college.
To learn more information about GAA, here is the website: www.sreb.org/go-alliance.
Louisiana College Application & Access Month (LCAAM)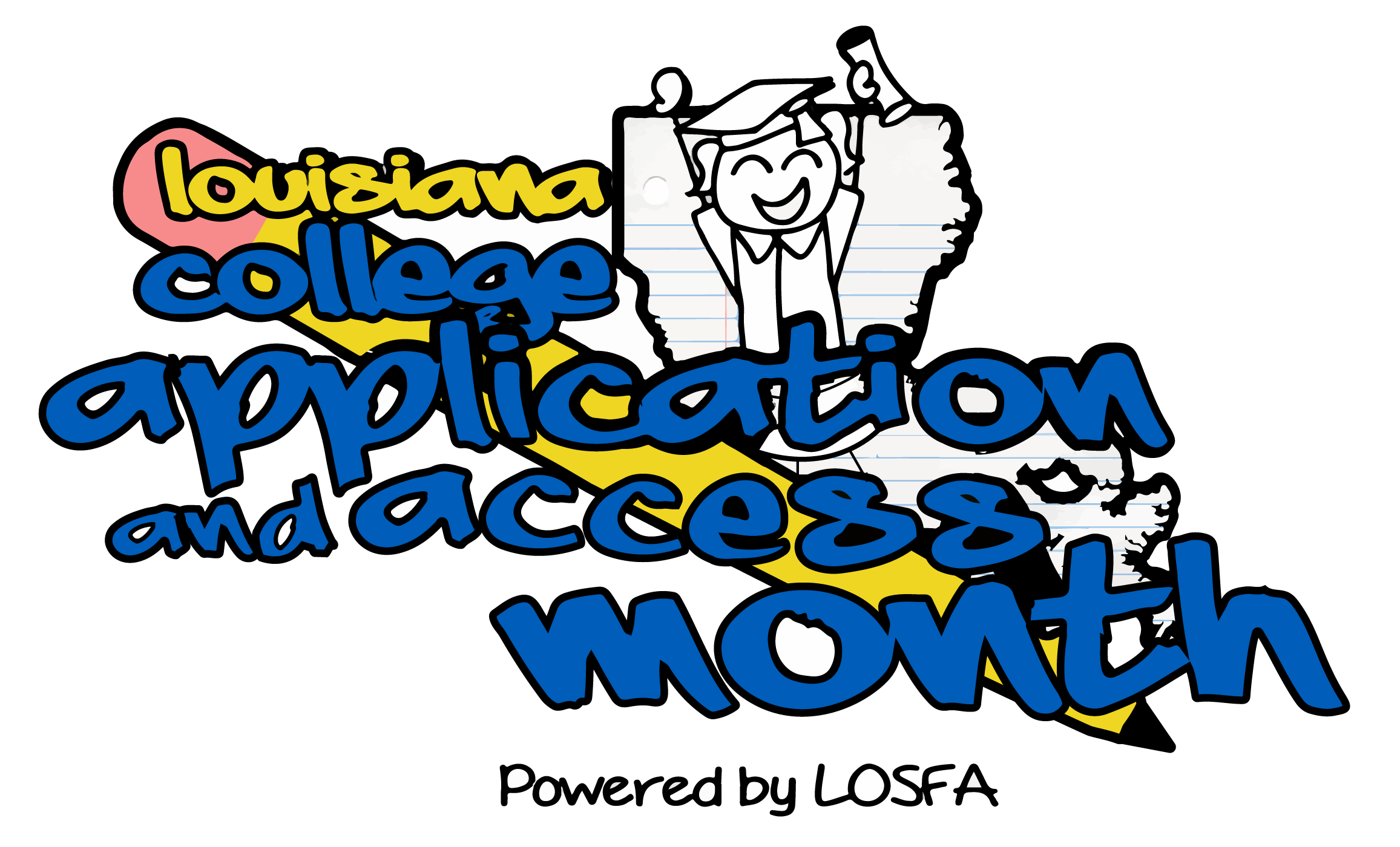 October is College Application & Access Month in Louisiana!
Louisiana College Application & Access Month (LCAAM) in October 2016 provides opportunities for every graduating high school senior to complete at least one application to the college of their choice. Special focus is on students who would be the first in their families to attend, low-income students, and students who may not have otherwise considered applying. Here's the thing: Approximately 90 percent of middle grade students say they plan to go to college, yet by the time these same students are high school seniors, the numbers are much lower. LCAAM provides the supports students need to navigate the often complex college application process.
Use this LCAAM Registration Form to identify which day during the month of October you are planning to invite admissions professionals to your high school campus to assist students and parents with college applications. This information will be shared with LCAAM partners including admissions offices to facilitate coverage of the events.
TOPS Check/Retention Workshop
The TOPS Check/Retention Workshop will provide students the information needed to determine whether the student is progressing successfully towards TOPS Award eligibility Students will also receive information on how to avoid cancellation and/or suspension of their TOPS award once they enroll in postsecondary institutions.
The required resources needed to have a successful workshop are to have available equipment, including A/V and materials for the activity and computer lab with access to Online College Access Portal.
The TOPS Check/Retention Request form will be coming soon!
2016-2017 LFOS Application
The Louisiana Office of Student Financial Assistance (LOSFA) invites public school districts to apply for AY 2016-17 college and career readiness support through the LOSFA Field Outreach Services Division.
The mission of LOSFA is to promote and provide college access. The goal of the Field Outreach Services Division is to significantly increase the number of low-income students who are prepared to enter and succeed in postsecondary education.
LOSFA will provide technical assistance in completing the application on Tuesday, June 7, 2016, at 2pm CST via webinar and by emailing our office at LFOS.Questions@la.gov. Successful applicants will continuously receive technical support during the 2016-17 school year.
Application Timeline
• Application distributed to schools/districts: Thursday, June 2, 2016
• Prospective Applicant Webinar: Tuesday, June 7, 2016, 2pm CST
• Application Deadline: Friday, June, 17, 2016 (submitted to LFOS.Application@la.gov)
• Award Notification: June 29, 2016
• Workshops/Training: July 2016 and as determined in contract
• Contract Start Date: August 1, 2016
• Contract End Date: June 30, 2017
AY 2016-17 Resources
Webinar:
LOSFA LFOS AY 2016-17 Application Webinar
Application:
2016 LOSFA Outreach Partnership Application