| | |
| --- | --- |
| | March/April 2000 Newsline Articles |
LOSFA gears up for Trailblazer summer camps
The Louisiana Office of Student Financial Assistance (LOSFA) will sponsor two Trailblazer Camps this summer, one each in the northern and southern regions of Louisiana. The southern camp will be held at Southeastern Louisiana University in Hammond, July 16 - 18 and the northern camp will be at Northwestern State University in Natchitoches, July 23 - 25.
The Trailblazer Camp is a three-day event which gives entering high school seniors an overview of college financial aid opportunities. As much fun as it is informative, the camp educates participants, or Trailblazers, on topics, which include the state's premier scholarship program (TOPS), the college admissions process, how to apply for financial aid, navigating the Internet for financial aid information and locating private scholarships.
Room and board for each Trailblazer will be supplied by LOSFA; however, transportation to and from the site is the student's responsibility. Once on site, Trailblazers will bunk in college dormitories and their days and nights will be packed with fun learning activities, including a talent show, dance, game show and prizes.
By camp's end, the Trailblazers will be well-armed with valuable financial aid knowledge, returning to their schools prepared to assist guidance counselors in blazing the trail for fellow college-bound classmates in need of financial assistance.
To ensure your school's participation in one of the Trailblazer Camps, guidance counselors or principals must select one qualified junior and an alternate who are enthusiastic about the opportunity to become a Trailblazer. Nominees must be college-bound, effective public speakers and, most importantly, leaders among their peers. The student with the highest grade point average (GPA) is not necessarily the best choice for a Trailblazer or an alternate. The best Trailblazer is the one who can motivate his or her classmates and help them prepare for their future life at college.
For more information on Trailblazers, contact LOSFA's Public Information and Communications Division at (800) 259-5626, Ext. 1012.
Department of Education policy on electronic loan counseling: As of Jan. 5, the U.S. Department of Education states that any electronic means by which a school provides loan counseling must be interactive, meaning that feedback must be provided by the student borrower during the course of the counseling. For this reason, an electronic receipt indicating that the borrower simply received and opened an electronic message that contained loan counseling materials is not sufficient proof that the loan counseling has been completed.
ED also addressed electronic receipts as a part of the school's documentation that it has fulfilled its loan counseling requirements for each borrower (as opposed to documentation that the borrower has actually completed the counseling). This documentation must include proof that the borrower received the materials. Proof of receipt is not required when loan counseling materials are sent by U.S. Mail. However, proof of receipt is required when using electronic transmission because, unlike materials sent by U.S. Mail, there is no legal assumption that the materials sent electronically are delivered to the person to whom they are addressed.
New marketing officer at Hibernia: Former marketing representative for the Louisiana Education Loan Authority, Johanna Z. Miller, has accepted the position of marketing officer with Hibernia/Class Credit effective Feb. 16
Louisiana Education Loan Authority (LELA) fills vacancy: Former financial aid counselor with McNeese State University, Anna Poe, has accepted the marketing representative position at Louisiana Education Loan Authority which was left vacant by Johanna Miller. Poe is scheduled to start with LELA in mid-March
Department of Education to host regional meetings: The U.S. Department of Education (ED) Office of Postsecondary Education (OPE) has scheduled four regional meetings to discuss the most significant opportunities and challenges facing American postsecondary education in the next five years. The event schedule includes: Boston -April 5, Dallas - April 26, San Francisco - May 2 and Atlanta - May 10. OPE encourages all concerned parties to actively participate through attendance and the submission of papers. To learn more, contact Terri Douglas at (202) 502-7654

LOSFA Loan Administration welcomes new employee: As of Jan. 31, Linda Paul, formerly a specialist in the Controls Division, Tax Account Section with the Louisiana Department of Revenue, has joined the LOSFA Loan Administration team as an account specialist. In addition to her full-time employment with LOSFA, Paul is also pursuing a master's degree in public accounting (MPA) at Southern University.
LOSFA Public Information and Communications (PIC) Division welcomes new employee: Jerri Mack has joined PIC's Automated Call Distribution (ACD) Unit as a communication's specialist, effective Jan 12. Mack has a bachelor's degree in mass communication from Louisiana State University, and is a member of the Public Relations Society of America (PRSA) and the Public Relations Association of Louisiana (PRAL).
LOSFA consults e-commerce experts
The Louisiana Office of Student Financial Assistance (LOSFA) has contracted with Computer Associates (CA), the third largest software company in the world, for an intensive analysis of the agency's e-commerce strategy in administering the Tuition Opportunity Program for Students (TOPS).
The month-long project includes on-site and daily analysis of the way TOPS recipients are processed through the state scholarship program. Amber Herbold and Jaideep Potnis, two of CA's efficiency experts, will conduct the analysis under the direction of Dr. Saidas M. Ranade, CA project director
"We're gathering information on the process by interviewing a random sampling of students, colleges and agency personnel who have been intimately involved with participants in the TOPS procedure to this date," Potnis said.
"We are looking at how the TOPS information exchange process works, how effective the process has been, what issues and problems have come up and the best way to solve them," he said.
The two experts are contacting a broad-based cross section of TOPS participants which includes: financial aid representatives at both large, automated colleges and smaller, manual-process schools; students who have participated in the program for several years as well as initial eligibles; students whose awards have been denied or canceled as well as recipients who requested exceptions to TOPS policy or filed an appeal of agency rules; and LOSFA staffers.

"One of the outcomes we expect to implement from the CA analysis is a more effective Web page interface between our agency and TOPS students, colleges and high schools," Terry Tuminello, director of LOSFA's information systems, said.
"A well-designed, comprehensive and user-friendly interactive Web page is the core of e-commerce," he said. "This is about doing business over the Internet, eliminating the time-consuming and often unnecessary paperwork, phone calls and personal contacts which detract from providing the best service possible."
Potnis said e-commerce is not only the business wave of the future, it has already gained a solid market share and a committed clientele of producers, retailers and service providers. "Electronic business strategy allows the customer to take more initiative and responsibility in inputting necessary information during the transaction which speeds up the process and provides the convenience of round the clock service," he said.
When asked if they have discovered any surefire e-commerce strategies which would help
streamline and simplify the TOPS process, Herbold said, "Right now, that information is top secret. But I can tell you one thing, it is a true pleasure to be gathering information on a program in which everyone involved is so warmly enthusiastic. TOPS is obviously a very desirable and respected state program."
TOPS core curriculum courses amended
Several substitute courses have been added to the Tuition Opportunity Program for Students (TOPS) core curriculum
The courses, as required by law, were approved by the Louisiana Office of Student Financial Assistance following the recommendations of the Board of Elementary and Secondary Education and the Board of Regents.

| | |
| --- | --- |
| TOPS Core | Equivalent Course |
| Algebra I | Algebra I, parts 1& 2 |
| Applied Algebra IA & IB | Applied Mathematics |
| Chemistry | Chemistry Com |
TOPS exception documentation updated
As a follow-up on last month's story regarding procedural changes in the TOPS awards process for requesting an exception to the full time or continuous enrollment requirement or an appeal of a canceled or denied award, the following is a list of the documentation which must be included with each exception request/appeal before a decision can be rendered.
The first 10 categories of appeals are called "exceptions to the continuous or full-time enrollment requirement." These exceptions are appeals which are based on objective and measurable standards set in rule.
The procedure for requesting exceptions to the initial and continuous enrollment requirement is as follows:
1. The student must complete and submit an exception request form, with supporting documentary materials, to LOSFA as soon as possible
after the occurrence of the event or circumstance that supports the reinstatement request and must submit the request no later than May 30 of the academic year the student requests reinstatement into TOPS.
2. If determined eligible for an exception, the recipient will be reinstated if he or she enrolls in the first fall, winter or spring term immediately following the exception ending date.
3. If determined ineligible for one of the category 1-10 exceptions, the recipient may appeal the decision – at which time the exception request becomes a category 11 appeal – to the agency and the Louisiana Student Financial Assistance Commission (LASFAC).
The following situations are not exceptional circumstances:
a) Financial conditions related to a student's ability to meet his or her educational expense are not a justified reason for failure to meet the hours of continuous enrollment requirement, because TOPS is a merit, rather than need-based award.
b) Dropping a course, failing a course or withdrawing from school to protect the student's grade point average or because of difficulty with a course or difficulty arranging tutoring.
c) Not being aware of or understanding the requirements.
d) Assumption that advanced standing , summer course work or correspondence course work credited outside the appropriate regular semesters or quarters would be applied to the hours requirement.
e) Differing scholarship or award requirements for other programs, such as NCAA full-time enrollment requirements.
f) Voluntary withdrawal from school to move out of state or pursue other interests or activities.
g) Claims of receipt of advice that is contrary to these rules, public information promulgated by LOSFA, award letters and the Borrower's Rights and Responsibilities document that detail the requirements for full-time continuous enrollment.
h) Failure to provide or respond to a request for documentation within 30 days of the date of the request, unless additional time is requested in writing, LOSFA grants the request, and the requested documentation is provided within the additional time granted.
For further information, contact LOSFA's Public Information and Communication's Division at (800) 259-5626, Ext. 1012.
Invitation extended to 1999 Trailblazers
LOSFA wants to hear from its 1999 Trailblazers
What did you do during the 1999-2000 school year to help prepare your fellow classmates for college? How did you strike out and "blaze the trail?"
Did you lead workshops? Paper bulletin boards with flyers and brochures? Offer tours of the Internet?
The 1999 Trailblazer with the most creative and effective way of reaching fellow students will be invited to give a presentation at one or both of the upcoming Trailblazer camps this July at Southeastern Louisiana University in Hammond and Northwestern Louisiana University in Natchitoches, La.
The presentation is the veteran Trailblazer's chance to share personal experience and advice with novice Trailblazer campers on how to best reach classmates with important information about their college futures.
To participate in this opportunity, 1999 Trailblazers should submit a one-page summary of their trailblazing activities during the past year.
Send information to Michelle Darling at the Louisiana Office of Student Financial Assistance, P.O. Box 91202, Baton Rouge, La., 70821-9202; or fax information to Michelle Darling at (225) 922-0790; or email information to mdarling@osfa.state.la.us
Commission sets dual enrollment standards
Tuition Opportunity Program for Students (TOPS) recipients who are simultaneously enrolled in more than one institution of higher education will now have the amount of their awards calculated based on the full-time figure that would be paid to the school with the highest tuition.
According to the Louisiana Office of Student Financial Assistance (LOSFA), some students must take courses not offered by the degree-granting college or university to obtain their degree and must simultaneously enroll in one or more additional institutions to meet their degree requirements.

The Louisiana Student Financial Assistance Commission (LASFAC) has codified LOSFA's current practice of calculating award amounts for TOPS recipients who are concurrently enrolled in more than one institution to not exceed the highest full-time tuition of the schools attended. This expands the definition of "full time" and includes a new award amount.
Section 301 of LASFAC's rules now defines full-time student as "a student enrolled in two or more institutions of higher education, when such multiple enrollment is necessary for the student to gain access to the courses required for completion of the degree in the chosen discipline and where the total number of hours earned at all institutions during the academic year is the equivalent of carrying a full-time academic workload as determined by the institution which will award the degree."
Additionally, Section 701.E, which determines award amounts, now includes Subsection 11a-c, which reads "students enrolled and attending more than one college or university at the same time shall be awarded as follows:
a. Students attending two or more Louisiana public two- or four-year colleges or universities shall receive a total amount not to exceed the amount that would be paid at the school with the highest tuition among those at which the student is simultaneously enrolled;
b. Students attending two or more regionally accredited independent colleges or universities which are members of the Louisiana Association of Independent Colleges and Universities (LAICU) shall receive a total amount not to exceed the Weighted Average Award Amount, as defined in section 301; and
c. Students attending a combination of Louisiana public two- or four-year colleges or universities and regionally accredited independent colleges or universities which are members of LAICU shall receive a total amount not to exceed the amount that would be paid at the public school with the highest tuition among those at which the student is simultaneously enrolled or the Weighted Average Award Amount, whichever amount is greater."
For more information, contact LOSFA by phone at (800) 259-5626, Ext. 1012.
Mapping Your Future updates OSLC service
In an effort to increase security for those participating in its Online Student Loan Counseling (OSLC) services, Mapping Your Future (located at http://www.mapping-your-future.org) has modified the programming for its entrance and exit counseling services.
OSLC version 2.0, which went into effect Feb. 1, has fine-tuned the process for both financial aid professionals and students alike.
Version 2.0 will provide students with tests that reflect the same content as the previous version, but which are more easily completed because of enhanced technology. The modifications will also enable student users to complete the counseling in a more timely manner.
However, it is financial aid professionals who will note the greatest change with OSLC version 2.0, in particular with the way they receive confirmation reports for their students that have completed online counseling.
With the older version of OSLC, schools were notified via e-mail when a student completed the counseling program. That message also included detailed information on the student. The modified version will continue to send e-mail notification to schools, but the information will be abbreviated to include only the student's last name and the last four digits of their Social Security Number.
A link will be provided in the e-mail to the Mapping Your Future Web site and its secure Online Access for Financial Aid Professionals area. The school must enter its user name and password to access the site and retrieve the complete confirmation reports.
Schools now may also elect to receive the notification e-mails in batch mode or on an individual basis for each student that completes the online counseling.
The enhanced security measures will require greater browser requirements. Any school or student accessing OSLC version 2.0 will need to work through an Internet browser that is version 4.0 or higher. The browser must also be set up to accept all cookies and have JavaScript enabled. Students taking the test will need to have a browser that can also handle frames.
For more information, contact Cathy Mueller with Mapping Your Future at cathy.mueller@mapping-your-future.org, or visit the organization's Web site at http://www.mapping-your-future.org
Online START accounts offer speed, convenience
Prospective Start account owners who prefer the ease of online application, or current owners who want a quick, up-to-date summary of account transaction history, can now access START information 24 hours a day through the interactive START section of LOSFA's Web site at http://www.osfa.state.la.us.
From the START home page located on the Web site, prospective account owners can complete the application form and authorize a monthly electronic funds transfer (EFT) which will debit their personal checking account and deposit the authorized amount in the owner's START account. These actions are accessed through the use of a personally created password, which guarantees the START account owner both privacy and convenience when using the Web site.
To activate the START account, the prospective owner must fill out the application and password forms, print and sign both and mail them to LOSFA. In approximately two weeks, the applicant will receive a letter of acknowledgment from LOSFA. This letter confirms the owner's acceptance into the program and activates the account.
In addition to applications, other forms may also be downloaded to transact START Saving Program business. If there are problems with the online process, the applicant/owner may contact LOSFA and request help through an e-mail customer service option on the Web site.
Current START owners who wish to view and maintain their accounts online may request a password through the online service. START will mail a Password Certification Letter authorizing the owner's access to the secure site. The owner then signs and returns the letter to LOSFA and the password is activated. Only one password is required to access all of the owner's START accounts.
Once the password is activated, the owner can keep track of the current daily balance, deposits, disbursements, Adjusted Gross Income, and all other transactions.
For more information, visit the LOSFA Web site at http://www.osfa.state.la.us. and click on the START icon to access the program's interactive Web site.
On The Road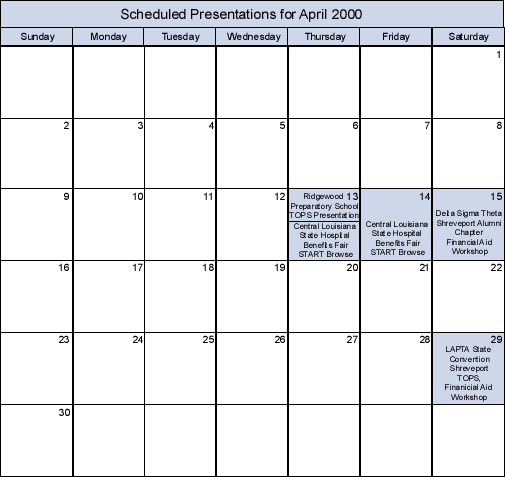 Click here

to return to March 2000 Newsline Topics
Click here

to return to Newsline Home page