September 1999 Newsline
Articles
During the 1999 Session of the Louisiana Legislature, several modifications were made to the Tuition Opportunity Program for Students (TOPS).
Award choice eliminated
Action was taken to eliminate a tough decision for students who qualified for TOPS Honors and Performance awards. Many of those who had earned the Performance or Honors Award were choosing the Opportunity Award because of the lower grade point average (GPA) required to continue the award. Previously, if a student chose the Performance or Honors Award, but failed to make the required 3.00 GPA necessary for retention, the student lost both the tuition and stipend, even if the 2.30 GPA (with fewer than 48 hours) or the 2.50 GPA (with 48 or more hours) required for retention of the Opportunity Award had been achieved.
The new statute eliminates both the need for making a choice and the risk of choosing a higher award. Now, if a student qualifies for an Honors or Performance Award, he or she will automatically receive that award. If the student fails to maintain the 3.00 cumulative GPA required for retention of the Performance or Honors Award, but does meet or exceed the necessary GPA for continuance of the Opportunity Award, the student will simply drop to the lower award, losing only the stipend portion of the original award. Once this occurs, the student can never regain the Performance or Honors Award and must continue to meet Opportunity Award continuation requirements. This change affects all high school graduating classes and is retroactive to those 1997 and 1998 high school graduates who chose the Performance or Honors Award. Those 1997 and 1998 high school graduates who chose the Opportunity Award, even though they were initially eligible to choose a higher award, are not affected.
Residency
Under the initial TOPS statute enacted during the 1997 legislative session, TOPS applicants were required to be Louisiana residents for a minimum of 24 consecutive months prior to college enrollment in order to qualify for the scholarship program.
During the Extraordinary Session of 1998, the legislature changed the residency requirement to a minimum of 24 consecutive months prior to high school graduation. Some 400 students graduating high school in 1997 and 1998 were made ineligible by this change.
During the 1999 legislative session, the residency requirement of 24 consecutive months prior to college enrollment was reinstated for those 1997 and 1998 graduates who had initially received award letters for TOPS, enrolled at an eligible institution during the 1998-1999 academic year, and can demonstrate that they met the original residency requirement. High school graduates of 1999 will also be allowed to qualify with a minimum of 24 consecutive months' residency prior to college enrollment.
However, beginning with high school graduates of the year 2000, the residency requirement will be 24 consecutive months prior to high school graduation.

Definition of dependent student and independent student
The residency of dependent and independent students was also clarified. The revised statute now clearly states that the residency of a dependent student is that of his or her parent or parents. In other words, a dependent student will be considered a resident of the state in which either or both parents reside. Dependency status will be determined using the federal definition which is described in the Free Application for Federal Student Aid (FAFSA) and used by the U.S. Department of Education in determining financial need and expected family contributions to the cost of education.
Residency requirements for military personnel and dependents
Dependent children of members of the armed forces on active duty who have maintained Louisiana as their official home of record and are stationed outside the state will be eligible for TOPS, provided they graduate from a state-approved or Department of Defense (DOD) high school. In addition, they must meet the alternate eligibility requirement (an ACT composite score three points above the Louisiana resident ACT requirement for each award level).
Dependent children of a nonresident stationed in Louisiana on active duty under permanent change of station orders may meet the TOPS residency requirements, provided that within 60 days after reporting for duty, the military parent or sponsor changes his or her personnel records to show Louisiana as the official state of legal residence and pays Louisiana income taxes. The student must then graduate from an approved Louisiana high school, meet all required academic standards including GPA, complete the TOPS core curriculum and achieve a qualifying ACT score.
Citizenship
Additional 1999 statutory changes clarify that TOPS recipients are required to be United States citizens. Students who are residents of Louisiana but are not U.S. citizens may qualify for the program, provided they apply for and become citizens within one year following their 18th birthday.
Core curriculum
The legislature also acted to raise the bar academically for TOPS eligibility. Beginning with the high school graduating class of 2003 (this year's incoming freshman class), the high school GPA needed to qualify for a TOPS Award will be computed on core course curriculum only. Graduating classes of 2000, 2001 and 2002 will continue to have their GPA computed on all courses attempted.
Academic probation versus steady academic progress
Previous TOPS legislation required institutions to suspend the TOPS Award for students placed on "academic probation" at the end of any semester or quarter. However, an inequity existed due to the fact that the definition of "academic probation" and the GPA upon which it is based varies from one institution to another. To remedy this inequity and create an even playing field, the legislature revised the statutory language, replacing the term "academic probation" with the term "steady academic progress" and directed the Louisiana Student Financial Assistance Commission (LASFAC) to define "steady academic progress" in program rules.
In response, the LASFAC requested the Louisiana Association of Student Financial Aid Administrators (LASFAA) to convene a task force of campus officials from the State's institutions to recommend a definition of "steady academic progress." Once LASFAC has had an opportunity to review the recommendation of the task force, a rule will be published establishing a single standard for all TOPS recipients.
An amount equal to tuition
Perhaps the most significant change made during the 1999 legislative session will enable thousands of Louisiana families to qualify for the federal Hope Scholarship and Lifetime Learning (tax) credits.
Previous statutory language specified that TOPS awards were to cover "the cost of tuition." The new statutory language states that TOPS awards cover "an amount equal to tuition." This seemingly insignificant change in terminology will now allow families whose adjusted gross income qualifies them for the credit, to pay their dependent child's cost of tuition and request that TOPS be applied to other qualified costs of attendance, enabling the family to claim up to a $1,500 Hope Scholarship credit or up to a $1,000 Lifetime Learning credit. It is estimated that qualifying Louisiana families could collectively claim millions of dollars in federal tax credits as a result of this change.
The Hope Scholarship and Lifetime Learning credits may be claimed only for out-of-pocket payment of tuition costs. The Hope Scholarship is available during the first two years of college, and the Lifetime Learning credit is available thereafter.
Families are strongly encouraged to consult a financial adviser or their tax preparer for advice on qualifying for the tax credits.
BESE approval
Another 1999 statutory change clarifies that non-public high schools must not only meet the Louisiana Board of Elementary and Secondary Education (BESE) academic standards but must also be eligible for state-funded textbooks and transportation in order for their graduates to be eligible for TOPS. In order to qualify for state-funded textbooks and transportation, non-public high schools must be certified by the U.S. Department of Education as compliant with the federal non-discriminatory standards in enrollment and employment.
At the time this statute was enacted, 23 non-public high schools in Louisiana, which were previously eligible for participation in the TOPS program, had not demonstrated compliance with the federal and state non-discrimination standards. These schools will be required to become certified as compliant in order for their future graduating classes to be eligible for TOPS awards.
Other legislative action was taken to:
• Permit 1998 graduates to qualify for TOPS if their ACT scores were achieved after high school graduation but prior to July 1, 1998.
• Prevent the disqualification of any 1998 high school graduate whose parents moved out of Louisiana during the student's senior year but who were residents for at least 24 consecutive months before leaving the state.
• Permit 1997, 1998 and future graduates of out-of-state high schools to qualify if the schools are approved by the Southern Association of Colleges and Schools (SACS) and meet the standards adopted by BESE for approval of non-public schools in Louisiana.
Newest members of the Louisiana Student Financial Assistance Commission (LASFAC) and the Louisiana Tuition Trust Authority (LATTA) are J. Kevin McCotter, Regional Director for Corporate and External Affairs for BellSouth Telecommunications in Shreveport, and Greg J. Risher, Administration Manager for Gulf Island Fabrication in Houma. Both represent The Louisiana Community and Technical College System.
Judith Vidrine has been promoted from Assistant Director to Associate Director of the Financial Aid Office of Louisiana State University at Baton Rouge. She has replaced Melanie Amrhein, who has joined the Louisiana Office of Student Financial Assistance as Assistant Executive Director. Also in the Financial Aid Office of LSUBR, Deborah Paul has been promoted from Financial Aid Officer to Assistant Director over Loan Programs, and Patrick Dietrich has been promoted from Assistant Director to Associate Director for Technical Services. Congratulations, Judith, Deborah and Patrick!
Frank Candalisa has retired from his position as Director of Financial Aid at Our Lady of Holy Cross College in New Orleans. Replacing him will be Johnell S. Armer, formerly Financial Aid Counselor at Holy Cross.
Lenora Thomas, formerly Assistant Director of Financial Aid at Southern University in New Orleans, has replaced Ursula Shorty as Acting Director.
Gil Gilson is now Director of the Northwestern School of Nursing in Shreveport. He was formerly Financial Aid Director at Northwestern State University in Natchitoches. Congratulations, Gil.
Kim Tanner, former financial aid counselor at Louisiana State University in Baton Rouge, is now a financial aid counselor at the University of Louisiana at Lafayette. Good luck, Kim.
LOSFA extends best wishes to former Customer Service Representative Jennifer Burton, who accepted a Financial Aid Counselor position with the University of New Orleans (UNO).

An updated Common Manual was recently published and mailed in July. Any lenders who did not receive the new edition should call LOSFA's Publications section at (800) 259-5626, Ext. 2318.
Congratulations to Gus Wales, who has been named Director of the Public Information and Communications Division. Wales served as LOSFA Communications Manager and acting Customer Services Director prior to his appointment.
LOSFA welcomes three new representatives to its Public Information and Communications Division (formerly Customer Services): Janice Lovett, Tamara L. Holmes and Annette-Marie Chelette. Lovett received a bachelor of arts degree in mass communications from Louisiana State University in Baton Rouge and has worked as a free-lance reporter. Holmes is a graduate of Loyola University in New Orleans with a bachelor of arts in communications (public relations) and previously worked as an administrator for the Lowen Group of New Orleans. Chelette, a graduate of Louisiana State University in Baton Rouge, received a bachelor of arts in English and has extensive experience in writing, proofing and other areas of communications.
Former Customer Services Representative, Rhonda Bridevaux, has joined LOSFA's
Publications staff as Layout Editor of Newsline.


LOSFA welcomes Assistant Executive Directors

The Louisiana Office of Student Financial Assistance (LOSFA) welcomes Melanie Amrhein and Mark Riley as Assistant Executive Directors.
Amrhein, who joined LOSFA on August 2, will oversee LOSFA's operational divisions, including the Loan Division (Loan Administration, Pre-Claims, Claims, and Collections Sections), the Scholarship and Grant Division and the new School/Lender Services Section.
Riley, who served as general counsel for the agency prior to his recent appointment, will oversee the support services divisions which include Legal, Fiscal, Policy and Compliance, Information Systems, Public Information and Communications, Human Resources, Mailroom, and Purchasing.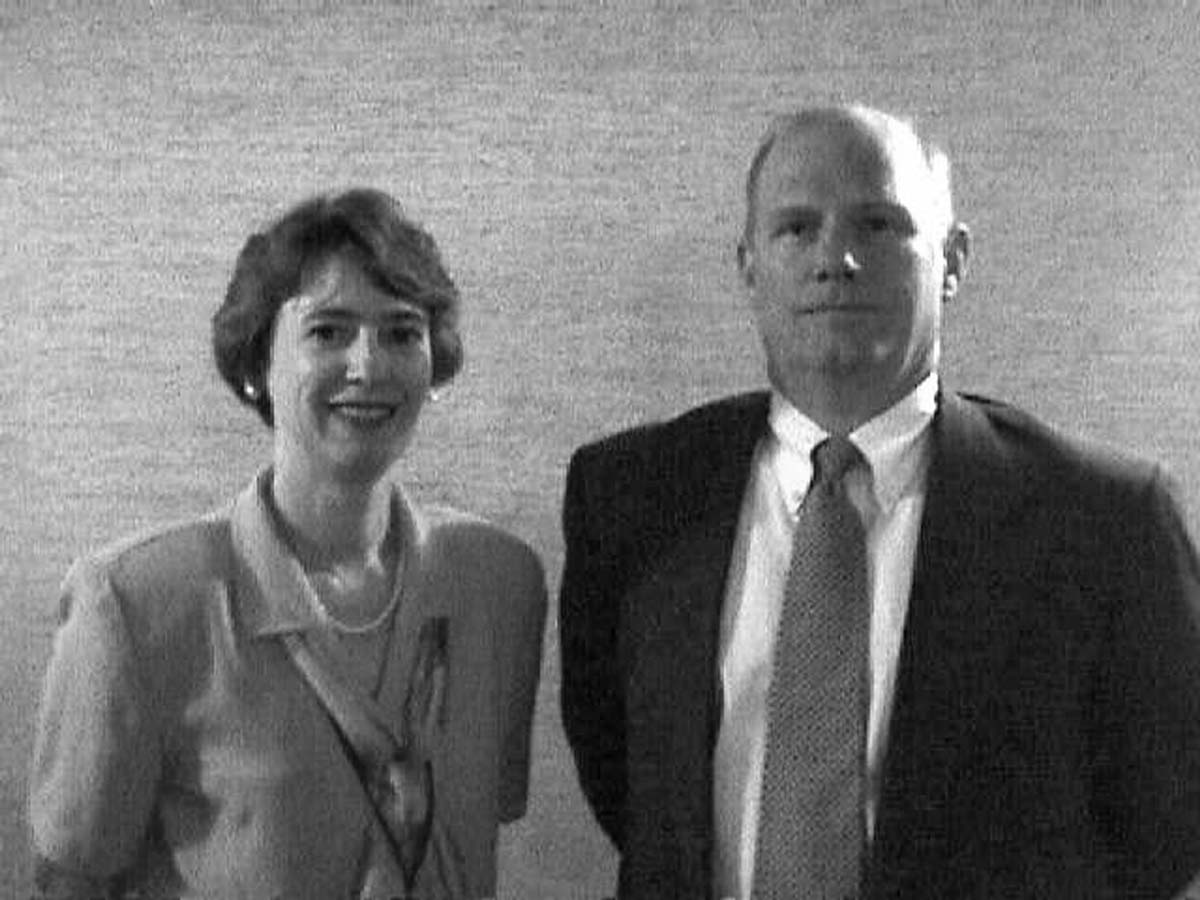 LOSFA's Assistant Executive Directors: Melanie Amrhein and Mark Riley
(Photo by Rhonda Bridevaux)
Amrhein served as Associate Director and Assistant Director of Louisiana State University's Office of Student Aid and Scholarship for the past 10 years. In those capacities, she was responsible for all operations associated with the delivery of Title IV programs in compliance with federal regulations. Amrhein administered LSU and state scholarship programs and all campus student employment. She is immediate past president of the Louisiana Association of Student Financial Aid Administrators (LASFAA) and a member of the Southwest Association of Student Financial Aid Administrators (SWASFAA) and the National Association of Student Financial Aid Administrators (NASFAA).
Besides having a thorough knowledge of federal Title IV philosophy, rules and regulations, Amrhein has worked with LOSFA over the years gaining extensive
experience with state programs. In guiding LSU through its enrollment of more than 7,000 TOPS recipients, she gained firsthand knowledge of the intricacies of the program.
"I am looking forward to the challenge this position brings to me," Amrhein said. "Each day, I gain a new respect for this staff and am eager to become an active participant in the future direction of this agency."
Riley was instrumental in drafting the administrative rules for the Louisiana Student Financial Assistance Commission's (LASFAC) recently adopted TOPS program and the Louisiana Tuition Trust Authority's (LATTA) START Saving program. He is responsible for drafting the agency strategic plan and identifying critical issues affecting the agency as a result of the 1998 Reauthorization of the Higher Education Act. He has also provided legal counsel to both LASFAC and LATTA.
As an attorney/consultant, Riley specialized in tax and business law. He served as partner and tax attorney for ten years with the law firm of Taylor, Porter, Brooks and Phillips in Baton Rouge.
Riley is a colonel in the U.S. Marine Corps Reserve and served five years as Judge Advocate. He was recalled to active duty in 1996 in support of Operation Joint Endeavor (NATO operation in Bosnia-Herzegovina).
"Our primary focus will be to improve services to our customers — Louisiana students, schools and lenders," Riley said. "I hope that I can bring my business experience and background to bear on this issue and that we can create the same type of quality service atmosphere that one might find in the commercial world.
"Over the past year, I have been very impressed with the dedication, enthusiasm, and work ethic of LOSFA personnel," Riley continued, "and believe this to be a strong base to work from in order to build the client/service relationship that we are looking for."


Students anxious to determine their TOPS eligibility status made more than 55,000 contacts or "hits" to the LOSFA Web site (http://www.osfa.state.la.us) Monday, June 28, and Tuesday, June 29, the first two days that eligibility status was available. "Everybody loves it," said Terry Tuminello, Director of LOSFA's Information Systems Division. "There were many, many more contacts than even I expected." He continued, "It has reduced the large volume of phone calls the customer service representatives handle, leaving them more time to handle the calls that need special attention."
According to Tuminello, the 55,000 hits add up to roughly 1,000 per hour for Monday, June 28 and Tuesday, June 29. The largest number of hits occurred between 10-11 a.m. on that Monday. " This total is probably less than the actual figure, since some of the schools bypass our initial web site and allow students to access the TOPS Eligibility Screen directly from their own web sites. Because of this, my numbers will not include students who access us in this way. I am looking for a more reliable way to count the web accesses."
The web site features a link which the student can access to learn if he/she has qualified for an award. The web site informs the student which award he/she is eligible for, and if the student does not qualify, gives the reason(s). This is a new, enhanced method of communicating to students their eligibility for TOPS.
Tuminello said, "One of the biggest tasks developing this feature was programming the reasons for student ineligibility. If the student's high school grade point average (GPA) was not high enough, and his parents did not meet the residency requirement, and his high school code was incorrect, we list all of those factors. Each of those reasons for ineligibility could be due to error, misunderstanding, or the fact that some information is not in yet."
By accessing the web site, visitors see every item of information about their individual eligibility that a customer service representative sees. "I think it helps them to see exactly what's on our system," Tuminello continued. "It allows a visitor to the site to identify what information is missing. He can then call a customer service representative and inquire what procedure should be followed to provide the missing information.
"If the student disagrees with any of the data shown on the screen, he or she can e-mail us directly from the site and ask questions or make comments."
TOPS eligibility by telephone
In addition to the TOPS Web site, LOSFA's Loan Information and Scholarship Access (LISA) phone system can be used to check eligibility status. LISA's voice response component informs the student if he or she is currently eligible or ineligible and refers the caller to our web site for details.
Of course, students may still call LOSFA's Customer Services representatives during business hours to determine their eligibility status.
During the first week that TOPS eligibility was available (June 28-July 2), our Customer Services Division received a total of 4,758 calls. The average wait for calls to be answered for the week was 19 seconds.
"Call volume was steady, but a far cry from the 139,000 calls we received during the first week of eligibility last year," Gus Wales, Director of Customer Services, said. "However, that was the second week in August, and the 4,758 number was for the second week in June. As we get closer to the beginning of the fall semester, we expect a sharp increase in the volume of calls received.
"There is no doubt that the online eligibility and LISA options diverted a huge number of additional inquiries from our Automatic Call Distributor (ACD) telephone system," Wales said.
Customer Services Representatives added
Other enhancements have been added in order to assist with call volume. LOSFA has recently remodeled its call center to accommodate additional staff, which was increased from seven to ten permanent and two temporary customer services representatives.


Tips for Calling Customer Service:

Callers are reminded of the following important tips to remember when calling LOSFA's Customer Services Division:
Always have the student's Social Security Number (SSN) ready. The customer service representative (CSR) will ask for the SSN if he/she needs to look up information. For example, the representative must have the SSN to look up eligibility status.
Have all documentation and correspondence ready. Documentation such as your Student Aid Report (SAR) and letters or correspondence pertaining to your call may be required for the representative to assist you.
Know the purpose of your call. When calling, please tell the CSR if your call is about student loans or scholarships, new awards or renewals.
Have a pen and paper ready to write down information. Customer Services Representatives give a standard greeting with their name. Always write down the name of person you speak with. If you are transferred, ask the representative to give you the name of the person to whom you are being transferred and write down that name also. You may also be given an address or fax number to which you may send information.


It's going be a busy school year for many of the students who attended the annual LOSFA Trailblazer Camp. These students have agreed to assist their guidance counselors and high school principals in informing their classmates about financial assistance and preparing for college.
More than 170 students attended the sixth annual Trailblazer Camp held from Sunday, July 25 through Tuesday, July 27, on the Baton Rouge campus of Louisiana State University. The LSU campus was also the site of the first Trailblazer Camp in 1994.
Welcoming students to LSU were Sen. Thomas A. Greene, Chairman, Senate Education Committee, Dr. Bobbie Walker, LSU Vice-Chancellor for Student Life and Academic Services, LOSFA Executive Director Jack Guinn and Customer Services Director Gus Wales.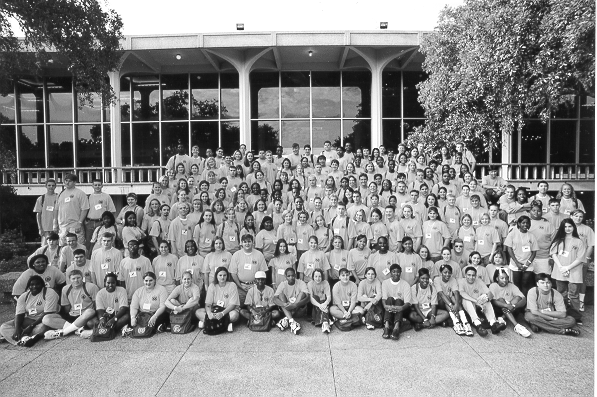 The Trailblazer Class of 1999 at Louisiana State University in Baton Rouge (Photo by Robert L Davis, Photographics
The topics covered during the camp included state scholarships, with an emphasis on the TOPS program, college admissions, financial aid processes, career choices, improving ACT scores, navigating the Internet for financial aid information and locating private scholarships. Presenters were Janet Barger, Student Loan Account Manager, (Citibank), Jeff Cropco, Customer Services Representative (LOSFA), Amy Dawson, Customer Services Representative (LOSFA), Elizabeth Desi, Assistant Director of Scholarships and Student Employment (LSU), Pamela Malveaux, Regional Marketing Assistant (Bank One), Sigmund Morel, Acting Communications Manager (LOSFA), Kristen O'Neil, Customer Services Representative (LOSFA), Judith Vidrine, Financial Aid Assistant Director (LSU) and Wales.
Interest in the Trailblazer Camp has extended beyond Louisiana state boundaries. Representatives from the Texas Board of Education and Brazos Higher Education attended to observe and learn how the Trailblazer Camp is organized on a yearly basis. The State of Texas plans to host similar camps in the future.
"This year, the Trailblazer Camp was a huge success, and the students showed a great deal of enthusiasm for learning about student loans and other financial aid programs. They were really getting involved with learning the what's and how's of financial assistance," Dawson stated.
Dawson and O'Neil coordinated the 1999 Trailblazer Camp. "To say the least, it was a hit," O'Neil commented. She continued, "The students were very receptive and attentive during the financial aid seminars. I am proud to say that these students appeared interested in learning about financing their college careers. I feel this can be attributed to the TOPS program. I think these young people are ready and anxious to share the knowledge they gained from camp. I also believe these students will be very selective in their college courses as they plan their careers."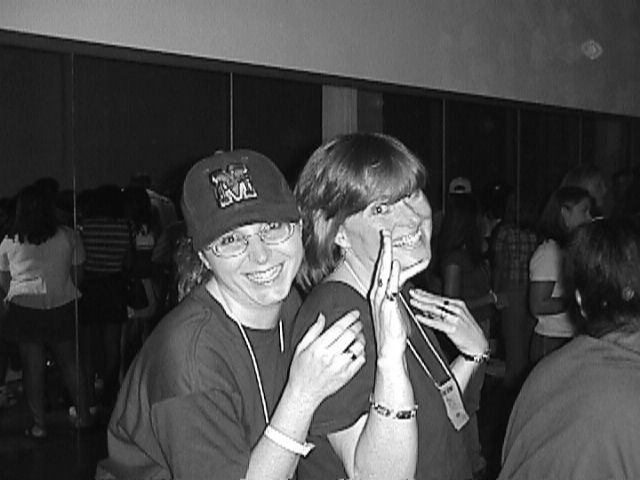 Janet Barger, Citibank, right, and Amy Dawson, LOSFA, prepare for a busy night with the Trailblazers Class of 1999. (Photo by Kristen O'Neil)
According to Wales, "The students were ready to learn and asked many good questions. They were a very intelligent and articulate group of young people.
"When the students return to school for their senior year, they will assist their counselors with distributing flyers and brochures, giving informal talks and managing workshops on financial aid. Trailblazers can be a real asset to their high school guidance counselors. They can share with their classmates, in a variety of ways, the information they gained during the three-day event."
The camp also included many fun-filled events during which the students could interact and make friends with whom they can stay in contact throughout the year. Activities included a dance, barbecue, ice-cream party, and a scavenger hunt.

Thanks to the following lenders for making the 1999 Trailblazer Camp
a success!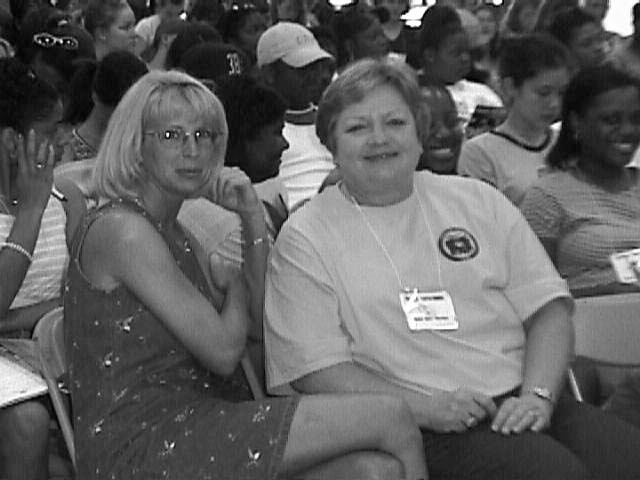 This year Trailblazer Camp had two extra members: Dawn White, Texas Board of Education, and Verna LaStrapes, Brazos Higher Education, joined the group to experience what LOSFA does each year to train students. Texas is considering creating a similar camp. (Photo by Kristen O'Neil)
Bank Of America
Bank One Louisiana
Campus Federal Credit Union
Citibank
Crestar Bank
Deposit Guaranty Bank
Educaid
Education Finance Group
First United Bank
Hibernia
Key Education Resources
Louisiana Education
Loan Authority (Lela)
Regions Bank
Sallie Mae
Whitney National Bank
Click here

to return to September 1999 Newsline Topics
Click here

to return to Newsline Home page