Certifying students for TOPS made easier for high schools
High schools should have a much easier time this year reporting the academic accomplishments of students applying for the Tuition Opportunity Program for Students (TOPS). Schools with access to the Internet will be able to electronically report a student's grades and courses, which will be used by this agency to determine a student's eligibility for a TOPS scholarship. Schools which do not enjoy Internet access will be relegated to manually completing the Certification Forms used during the first year of the program, but with some notable improvements in the form that will reduce the effort required to complete it.
Certifying a student for TOPS goes online
An inquiry is now in the mail to high schools, to identify those which have Internet access and would opt to use our automated process to report a TOPS applicant's grades and courses. Guidance counselors should respond promptly to this inquiry since the certification process for 1999 graduates will commence on May 1. The principals of high schools electing to use this automated process will be issued a Personal Identification Number (PIN) and must certify to this agency that all data transmitted under this assigned number will be true and accurate. Once the principal's affidavit is on file with this agency, the account will be activated and the school may begin entering and transmitting the academic data for its students.
Advantages of reporting via our website are that it's continuously available to be accessed by schools and secured by data encryption software. The school's authorized operator will access the school's account on our website, using the assigned PIN. The account will list the names of all students in attendance at that school who have filed a program application and made a qualifying score on the American College Test (ACT), as of the date of inquiry. The operator will simply fill in the blanks by keying in the data for some or all of the students listed. However, prior to transmitting the completed records, the operator should make a page print for the school's file. Once records have been transmitted and uploaded to our computer overnight, students whose files have been accepted will no longer appear on the school's list. Each day, as new applications are received from the federal processor, applicants may be added to the school's account.
The certification form is simplified and reported less frequently
High schools lacking Internet capability will be relegated to manually reporting student academic data on the certification form, a slightly revised form from that used during the inaugural year of the program. The changes in the certification form include:
• Students' American College Test (ACT) scores will no longer be reported to the high school.
• Foreign language units will be included in either core or exception unit columns, eliminating the need for separate reporting in a foreign language units column.
• The top five percent of the class will no longer be reported.
• Although the signed affidavit must accompany each submission of the form, legislation is pending that would eliminate the requirement that the form be notarized.
Schools must ensure that the data initially forwarded to this agency, whether using the automated process or the certification form, is accurate, because the opportunity for the school to correct the data will be limited and tightly controlled.
Questions related to the procedure for calculating grade point averages or determining whether a course fulfills a curriculum requirement should be addressed before any data is submitted and may be directed to our Customer Services Representatives at (800) 259-5626, Ext. 1012. Once data is initially submitted for a student, requests for subsequent corrections must be submitted in writing, with documentation attached, for review by our program auditors.
New lenders participating in LOSFA's loan programs are Trustmark National Bank, as trustee for Education Services Foundation, lender code #829486, NEBHELP, Inc. through Norwest Bank Minnesota, lender code #833500, NHELP-1, Inc. through Norwest Bank Minnesota, lender code #833501, and FNB Chicago as trustee for EFG-I, LP, lender code #833585.
Officials at LOSFA will be considering defining what constitutes "academic probation" solely for purposes of assuring equitable treatment of TOPS recipients regardless of which university or college they attend. Anyone interested in contributing input may contact a Customer Services Representative at (225) 922-1012 from Baton Rouge or (800) 259-5626, Ext. 1012.
TOPS TOPICS: All bulletins issued to date may be accessed on LOSFA's website, http://www.osfa.state.la.us. Click the Scholarships and Grants icon, then the TOPS link, then select TOPS Program Bulletins, or go directly into http://www.osfa.state.la.us/schgrt6e.htm. Here are the topics and corresponding bulletin numbers to date: TOPS Recipients Who Are Placed on Academic Probation: Bulletin #T99-1 published 1/28/99; Academic Probation Policies Request: Bulletin #T99-2 published 1/29/99; Reversal of December 8, 1998: Bulletin #T99-3 published 2/8/99; Report of Students Eligible for TOPS Enrolled Less Than Full-Time: Bulletin #T99-4 published 3/4/99; TOPS College Academic Year Grade Report File Definition: Bulletin #T99-5 published 3/5/99; TOPS Processing Schedule: Bulletin #T99-6 published 3/5/99; Eligibility for Summer Payments: Bulletin #T99-7 published 3/5/99; and TOPS Continuous Enrollment: Bulletin #T99-8 published 3/8/99. Questions regarding the operational application of the provisions of these bulletins should be directed to Dr. John Bell, Program Manager, Scholarships and Grants Division, at (800) 259-5626, Ext. 1113 or locally in Baton Rouge at 922-1113.
Byron Henderson, Collections Administrator, married Hope Anderson in Baton Rouge on January 30, 1999. Congratulations, Hope and Byron!
Gus Wales, LOSFA Communications Manager, has been named acting Director of the Customer Services Division. He replaces Diane Pfeifer who accepted a related position in the private sector. Customer Services Representative Sigmund Morel has been named acting Communications Manager.
LOSFA welcomes six new representatives to its Customer Services Division: Cynthia Poland has been hired as a Communications Specialist III to serve as LOSFA's Publications Supervisor. Cynthia has served as Public Relations Coordinator for Southside Regional Medical Center in Petersburg, VA, and for the two years prior to that she was Marketing Director for the Children's Home of Virginia Baptist, Inc. Hired as Communications Specialist I's were Rhonda Bridevaux, formerly a Customer Service Associate for Bank One in Hammond; Kelly Hutson Cormier, former Assistant Manager of Kadair's Cameras, Audio and Video in Baton Rouge; Amy Dawson, formerly with WFPR and WHMD radio stations in Hammond; Jennifer Guhman, a three-year veteran at WGMB-TV (Fox 44) and WVLA-TV (Channel 33) in Baton Rouge; and Kristen Landaiche' O'Neil, former Sales Coordinator for MMI-Holiday Inn, Baton Rouge.

Guidance Counselors: The deadline for Trailblazer nominations (April 15, 1999) has been extended. If you have a Trailblazer in mind, it's not too
late to send your nominee sheet to P.O. Box 91202, Baton Rouge, LA 70821-9202 or fax it to (225)922-7090.
Tax time heralds treasury offset activity


During tax season, the Collections Staff of LOSFA's Loan Operations Divison was busy answering questions about the Treasury Offset Program. This program empowers LOSFA to seize any federal payment, such as income tax refunds, made to borrowers in default.
"This year, we certified 20,710 borrowers," said Byron Henderson, head of the Collections Section. Borrowers are certified who have not made payments on student loans and who have records which show collectible student loan balances. "Last year, we seized payments totaling $5,167,156," Henderson said. "This amount was comprised of 5,163 offset payments, averaging roughly $1,000 per seizure."
Once borrowers certify for the Treasury Offset Program, it is permanent. They cannot begin making payments after one seizure, and their federal income tax returns will be seized until the loan is repaid in full.
Inclusion in the Treasury Offset Program is one of several penalties for those who refuse to make voluntary payments. Along with Administrative Wage Garnishment, the Offset Program is a strong motivator for borrowers to pay voluntarily. Making voluntary payments may qualify the borrower for the Rehabilitation Program (see adjoining article).

LOSFA's Financial Aid Handbooks (Blue Books) are in! Call Customer Services at (800)259-5626, Ext. 1012 or from Baton Rouge, 922-1012 to order yours.
Rehabilitation Program serves borrowers
Since 1996, LOSFA's Loan Operations' Collections Section has participated in the Rehabilitation Program, which assists borrowers in removing their loans from default. Thus far, Collections has rehabilitated loans for over 560 borrowers totaling over $2.3 million.
"As soon as the borrower defaults, we recommend rehabilitation," said Byron Henderson, section chief. "After the borrower has made six monthly consecutive on-time payments to us (the guarantor), we send a letter encouraging the borrower to keep up the payments in order to qualify for rehabilitation. We send another letter on the occasion of the borrower's ninth payment. After 12 consecutive on-time monthly payments, we send a letter informing the borrower that he/she has qualified for rehabilitation and asking if the borrower wishes to participate in the program. If the borrower wishes to rehabilitate, he/she must sign the letter and return it to us. At that time, we assist the borrower in finding a lender who will buy the loan.
"When borrowers have acquired a new lender, they are no longer in default. It is as if they never defaulted at all. The borrower's credit records are clean, he may petition his lender for loan deferment and forbearance, and he is eligible for additional Title IV loans," Henderson said.
There is some relief for borrowers in default: they can make six monthly, on-time payments and get another Title IV loan - but for one time only. After that, they must keep up the monthly payments or lose their Title IV eligibility.
"Getting borrowers out of default is to our benefit, too," Henderson said. "That means there are fewer dollars in default to count against us in computing the state's default rate."
Collections Section breaks record
LOSFA's Collections Section, headed by Byron Henderson, broke the million dollar mark for the first time ever this March. This new record beats the two previous in-house records of $812,893, collected in January, and $811,127, collected in March 1998. Henderson credits Collection's success to "ongoing collection initiatives such as wage garnishment, a letter campaign informing the borrowers about the consequences of failing to repay their loans, and the installation in October of the new auto-dialer system, Mosaix, which contributes to the efficiency of the section." Collections is part of the Loan Operations Division directed by Pat Storey Shannon.
LASFAC initiates new loan program to assist medical students
The Louisiana Student Financial Assistance Commission (LASFAC) will grant up to four awards each year to LSU Medical School students entering their junior year. Students who desire to become primary care physicians may qualify for loans of up to $30,000 ($15,000 per year) to cover tuition, room and board expenses during their final two years of medical school.
To qualify, a student must be enrolled and entering the third year of study at LSU Medical School New Orleans or Shreveport as a full-time student in a course of study leading to a degree in medicine with the intent to specialize in primary care. Primary care fields include family medicine, general internal medicine, general pediatrics, obstetrics/gynecology or a medicine/pediatrics practice.
Known as the Medical School Tuition Payment Program, the awards will be granted according to the student's academic performance in medical school. Students who have demonstrated an interest in the primary care field of medicine by participating in extracurricular activities related to that field will be given additional qualifying credit.
The loans will be forgiven if, upon completion of an appropriate residency program, the recipient establishes — for four consecutive years — a primary care practice in a rural area within Louisiana which has been designated as a health services shortage area.
Applicants for the program should file the Free Application for Federal Student Aid (FAFSA) by April 15 of the calendar years in which an award is being sought. This first year, the award is retroactive for the 1998-99 academic year. Letters of application should be submitted as soon as possible to the following: Howard Randall, Ph. D., Associate Dean, Student Affairs and Records, LSU Medical Center, 1542 Tulane Ave., New Orleans, LA 70112-2822; and Ralph Henderson Ph. D., Assistant Dean for Student Affairs, LSU Medical Center, P. O. Box 33932, Shreveport, LA 71130-3932.
Second dinner held at Governor's Mansion to honor
TOPS recipients
A second dinner was held at the Governor's Mansion on the evening of January 27 to honor two Louisiana Tuition Opportunity Program for Students (TOPS) award recipients. The two University of New Orleans freshmen, Kellie Bauer and George Bischoff, III, were among five lucky students whose names were drawn from among more than 1,500 TOPS recipients who attended a ceremony in their honor at Louisiana State University on August 19, 1998.
The two UNO students were unable to attend the first Mansion dinner, held on September 29, 1998, due to flooding and road closures in the New Orleans area resulting from Hurricane Georges.
Accompanying Ms. Bauer were her parents, Kathy and Danny Bauer. Mr. Bischoff was also
accompanied by his parents, Linda and George Bischoff. Other attendees included Gov. Mike Foster and First Lady Alice Foster; UNO Chancellor Gregory O'Brien; Rep. Charles McDonald, Chairman of the House Education Committee; Louisiana Office of Student Financial Assistance Executive Director Jack Guinn, Acting Director of the LOSFA Customer Services Division Gus Wales; and Governor's Mansion Coordinator Susan Afeman.
The students and their guests were greeted by Gov. and Mrs. Foster. The candelight dinner was served in the mansion's main dining room.
Governor Foster congratulated the students on their achievements and pledged his continued support of the TOPS program. The students were also congratulated by Rep. McDonald and Chancellor O'Brien, both of whom encouraged them to make the most of this opportunity by studying hard, earning their degrees and remaining in Louisiana after graduation.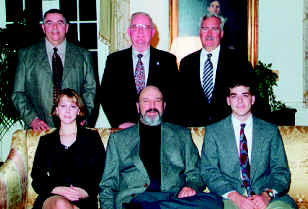 Pictured at the second Governor's Mansion dinner honoring TOPS scholarship award recipients are: (seated left to right) UNO student Kellie Bauer, Gov. Mike Foster and UNO student George Bischoff, III; (standing, left to right) LOSFA Executive Director Jack Guinn, Rep. Charles McDonald and Chancellor Gregory O'Brien.
TOPS Calendar of Events
Presented at LASFAA Conference
Acting Communications Manager Sigmund Morel presented the following TOPS timeline to the Louisiana Association of Student Financial Aid Administrators (LASFAA) at its Conference held in Alexandria on March 25.
All dates refer to the year 1999.
March 1 was the final state deadline for the federal processor to receive the completed FAFSA for the 1998-99 academic year.
April 6, LOSFA will load 1999-2000 FAFSAs to the LOSFA Scholarship Applicants' file.
April 10 is the last date on which a qualifying American College Test (ACT) score may be taken for 1999 high school graduates.
April 15 is the last date that the FAFSA may be postmarked for priority consideration for new and continuing recipients of TOPS.
May 1 is the last date on which a qualifying equivalent score for the Scholastic Aptitude Test (SAT) may be earned for 1999 high school graduates.
May 1 is also the final date for LOSFA to receive supporting documentation from students for 1998-1999 academic year.
May 3, LOSFA will mail the High School Certification forms with the names of students who have qualifying ACT scores and whose Institutional Student Information Records (ISIR) have been received as of that date.
Mid-May, subsequent High School Certification forms should be mailed to high schools upon receipt of the April National Test Report from ACT including names of students achieving a qualifying score on the April 1999 ACT.
May 14 is the target date for the production of the last TOPS Master Roster for award year 1998-99.
May 17, the final TOPS Master Roster will be available to universities, and data entry for 1999-2000 certifications will begin.
May 24 is the date on which schools may begin transmitting the TOPS Academic Year Grade Report to LOSFA. This report reflects the academic performance of TOPS recipients.
May 28, processing of all records will begin. System-generated award letters begin being sent out the day the students' names (new or continuing recipients) appear on the Master Roster.
May 28 is the target date for LOSFA to begin sending letters to those TOPS recipients who have failed to meet continuation requirements.
June 1, LOSFA will issue the first 1999-2000 TOPS Master Roster with the names of all applicants (new and continuing) who are qualified as of that date. The Roster will be updated weekly.
July 1 is the last date for universities to transmit to LOSFA, TOPS Payment Requests for the 1998-99 award year.
July 1 is also the final deadline for the 1999-2000 FAFSA to be received by the federal processor, for new and continuing recipients of TOPS.
August 1 is the last date for universities to transmit to LOSFA, TOPS Payment Requests for the 1999 Summer Session (former Louisiana Honors and TAP recipients only).
August, LOSFA will mail High School Certification forms for all students including students not on previous certification forms who HAVE filed a FAFSA by the July 1 deadline.
Morel also presented information on the TOPS Academic Probation Update File, the TOPS Academic Year Grade Report File, the TOPS Voice Response System and the LOSFA Website.
LOSFA unveils
College Payment Plan
The Louisiana Office of Student Financial Assistance (LOSFA) will begin offering Louisiana residents its "College Payment Plan" this summer. This plan combines Louisiana's three major student aid programs — savings, scholarships, and loans — to offer families a comprehensive, state-assisted financial planning program that can cover all costs of a child's college education.
The plan includes three components:
Louisiana's affordable, state-supplemented Student Tuition Assistance and Revenue Trust (START) Saving Program, Tuition Opportunity Program for Students (TOPS), and Louisiana Guaranteed Low-Interest Student Loans.
Enrollment in the plan will occur automatically when a parent or family member opens a START Saving Program for a child or young person after July 1, 1999.
Legislators may identify TOPS recipients
A letter to State Legislators from Jack L. Guinn, Executive Director of the Louisiana Office of Student Financial Assistance (LOSFA), dated February 15, 1999:
"This office can now report to you the names and addresses of students who attended high schools in your district and were subsequently awarded under the Tuition Opportunity Program for Students (TOPS). You may wish to use this report to communicate directly with the recipients of these awards.
To receive this report, have a member of your staff call one of our Customer Service Representatives at (800) 259-5626, Ext. 1012 or (225) 922-1012 and provide the names of high schools in your district."
Guidance Counselors: Who will be your 1999 Trailblazer?


Although it is past the April 15 deadline, high school guidance counselors are urged to send the names of Trailblazer nominees to The Louisiana Office of Student Financial Assistance (LOSFA) for the 1999 Trailblazer Camp which will be held Sunday, July 25 through Tuesday, July 27, on the Baton Rouge campus of Louisiana State University. Thanks to Melanie Amrhein, Associate Director of LSU's Financial Aid office, and her assistants, this Sixth Annual Trailblazer Camp will be returning to the site of the first Trailblazer Camp in 1994. This year, there will be one large camp instead of two smaller camps in different parts of the state. Room and board will be provided by LOSFA. Transportation to and from the camp will be the responsibility of the student.
Trailblazer Camp is a three-day event for high school juniors about to enter their senior year to learn about student aid. Topics include state scholarships, with an emphasis on the TOPS program, college admissions, financial aid processes, career choices, improving ACT scores, navigating the Internet for financial aid information and locating private scholarships.
Trailblazers return to their schools ready to share information with their fellow students. Under the supervision of their guidance counselors or principals, they distribute flyers and brochures, give informal talks, and manage workshops on financial aid. Trailblazers assist peers in finding their way to financial aid on the Internet. Their involvement can be the determining factor in whether a fellow senior goes to college.
Guidance counselors faced with the difficult task of nominating two of their juniors may find former Trailblazers helpful in making the decision.
The ideal Trailblazer must be college-bound, a motivator, and a peer leader.
Watch for future issues of Newsline for additional information on the camp. Call LOSFA's Customer Services Divison at (800) 259-5626, Ext. 1012.
Employees hold raffle for children of Andrea Wright


Employees of the Louisiana Office of Student Financial Assistance (LOSFA) raised $287 from an Easter Basket Raffle to donate to "The Andrea Wright Children's Trust Fund." LOSFA established the account for the four surviving children of Wright after she was killed by her estranged husband on February 29, 1996.
The account is with Hibernia National Bank and will provide educational assistance to RaShonda, 12; Quinton, nine; Henry Jordan, eight; and Dawn, five years old. Donations to the fund may be made at any Hibernia National Bank branch. The mailing address is P.O. Box 260115, Baton Rouge, LA 70826-9977. Checks should be made payable to "The Andrea Wright Children's Trust Fund." The account number is 8004753195.
For more information, call (800) 259-5626, Ext. 2030, or locally, 922-2030.
Trailblazers asked to raise classmate awareness of
TOPS requirements

1998 Trailblazers need to alert their fellow high school graduates of 1999 to the newest deadlines and requirements for the Louisiana TOPS award.
American College Test (ACT)
The minimum American College Test (ACT) score required to qualify for the TOPS Opportunity Award will be 20.
April 10, 1999 is the final national test date for the Act Assessment Test. A qualifying score must be achieved on or before that date.
When registering for the 1998-99 ACT Assessment Test:
• the student's social security number must be entered correctly in item C,
• the year the student will graduate from high school must be entered in item K, and
• the code for the high school from which the student will graduate must be entered in item L.
If the student changes high schools after taking the ACT test, LOSFA must be advised of this by May 1, 1999.
To ensure that the student's ACT or Scholastic Aptitude Test scores are sent to LOSFA, the special TOPS code 1595 (ACT) or 9019 (SAT) must be entered as one of the four college/scholarship choices allowed in section O of the ACT registration form.
Free Application for Federal Student Aid (FAFSA)
The Free Application for Federal Student Aid (FAFSA) for school year 1999-2000 must be filed before April 15, 1999, for priority consideration. Applications received after the final deadline of July 1, 1999 will not be considered.
The social security number entered on question eight of the FAFSA must be correct and agree with that entered on the form used to register for the ACT test.
Complete those questions about citizenship, residency and date of residency pertaining to you and your parents (questions 14, 25, 26, 27, 79, 80 and 81 on the FAFSA).
The student must make sure that he/she enters into the blocks provided (questions 83-93 on the FAFSA), a Louisiana public or private college or postsecondary school which should receive the information from this application.
Don't Blow Your Tops
LOSFA has reprinted and mailed the Don't Blow Your TOPS posters to all the high schools in the state. The revised posters contain the following information that the original posters did not include:
• The TOPS ACT code 1595 may be included as one of four college/scholarship choices allowed in section O of the ACT registration form.
• The following paragraph: "Even if you plan to exercise your option to delay enrollment in college until one year after high school graduation (or five years if you enlist in the armed forces), you MUST submit the 1999-2000 FAFSA for receipt by the July 1, 1999 final deadline to establish eligibility."
For more information, call LOSFA Customer Services at (800) 259-5626, Ext. 1012, or from Baton Rouge, 922-1012.
Click here

to return to May 1999 Newsline Topics
Click here

to return to Newsline Home page