July 1998 Newsline
Articles

Students Should Receive TOPS Award Letters by August 15
The first day of fall classes for Louisiana's colleges and universities is fast approaching and thousands of students are anticipating tuition awards under the state's new Tuition Opportunity Program for Students (TOPS). Officials and staff of the Louisiana Office of Student Financial Assistance (LOSFA) are busy preparing the initial master list of TOPS recipients, but their message to students and parents is to wait until August 17 before calling with questions.
"We anticipate distribution of the initial master list of TOPS recipients to university financial aid offices during the first week of August," said John Bell, Acting Director of LOSFA's Scholarship/Grant Division. "Individual students should receive notification of their awards by letter by August 15. Financial aid officers and guidance counselors are encouraged to request that students and parents not call LOSFA's offices before August 17 to check the status of their TOPS award."
Bell stated that the office is hard at work generating a master list of eligible students and their award letters. Generating the master list involves matching student ACT scores with a high school certification report verifying the student's grade-point average and core curriculum courses.
"Calls to LOSFA at this time will only slow the entire process," he said. "Beginning Monday, August 17, all of our energy and attention will be devoted to certifying those qualified students who were not included on the first master list and who have not received award letters."
Students being asked to pay tuition before notification of a TOPS award should contact the financial aid office of the college or university they are planning to attend to discuss the school's policy regarding fee waivers or reimbursements. "LOSFA cannot make payment policy decisions or grant fee waivers for any university or college," said Bell.
There are some things students and parents can do before calling LOSFA if they didn't receive notification of a TOPS award and think they should. ACT reports should be checked to make sure the school code and social security number (SSN) are correct. If either is incorrect, students should mail LOSFA a copy of the ACT report (not the original) with the incorrect information circled and the correct information written in. A photocopy of the original social security card should also be forwarded to LOSFA if the SSN is incorrect. Call LOSFA after August 17 for further instructions if the school code is incorrect.
As reported in the last issue of Newsline, the United States Congress is in the process of reauthorizing the Higher Education Act (HEA) of 1965, the legislation under which the national student financial aid industry operates. HEA requires Congressional reauthorization every five years.
The House of Representatives and the Senate each have a different version of the bill. The House passed its version of the bill in May by an overwhelming majority and referred it to the Senate. On July 9, the Senate bill also passed by an overwhelming majority. It was hoped that the reauthorization measure, H.R. 6, which would have reflected a consensus between the two bills, would have reached the President for signature before the July recess, but lawmakers were not able to meet that deadline. The two bills must now be reconciled in Conference Committee where the differences between them will be ironed out. Congress goes into recess again at the end of July until after Labor Day.
DeWayne Bowie, previously the Associate Director of Financial Aid at the University of Southwestern Louisiana, has been named Financial Aid Director there. Taking his place as USL Associate Director is former Assistant Director Cindy Perez.
New lenders participating in LOSFA's loan programs are EFS Inc., under lender code # 824573, and EMT Corp., under lender code #833495. Both operate out of Indianapolis and can be reached through contact with Vice President Bryan Miller at (317) 469-2064.
Union Planters Bank has announced a servicing change. Beginning this month, its new loans will be serviced by EdSouth in Knoxville, Tenn. To more easily accommodate this servicing change, Union Planters' lender code has changed from 805066 to 810698. Loans entered for LOSFA guarantee under either the old or new lender code will automatically guarantee under lender code 810698.
Jeff Cropco joined LOSFA this month as a Communications Specialist I in the Customer Response Unit of the Customer Services Division. Jeff comes to us from the University of Southern Mississippi and Fordham University School of Law. He has served as a substitute teacher. Welcome, Jeff!
LOSFA would also like to welcome its newest auditor Dianne Collins in the Program Review Section. Dianne comes to us from Cracker Barrel Stores after earning a degree in accounting from Louisiana State University.
The U.S. Department of Education is scheduled to publish a Dear Colleague Letter extending and expanding provisions by which eligible schools can award increased amounts of unsubsidized loans to students in health professions. Schools that had been eligible to award the increased amounts may do so for loan periods beginning on or before June 30, 1999. Because of the elimination of the HEAL program on September 30, 1998, and the small amount of insurance authority remaining for this year, eligible schools can award the increased amounts to otherwise eligible students even if they were previous HEAL borrowers. This new set of eligible students will be for loan periods beginning on or after May 15, 1998.
The U.S. Department of Education is granting lenders a 60-day extension for additional special allowance payments on loans affected by the court decision in Bank of America N.T. and S.A. v. Riley. The new deadline for filing a supplemental Education Form 799 (Lender's Interest and Special Allowance Request and Report) is August 31, 1998, and no additional extensions will be allowed. Refer to Dear Colleague Letter 98-L-202 for instructions on submitting this form.
Student recipients of TOPS awards and their parents are cordially invited to a ceremony marking the presentation of the first TOPS Awards at 4 p.m. Wednesday, August 19, at the Louisiana State University Union Theater. Gov. M.J. "Mike" Foster will acknowledge five TOPS recipients at the ceremony to be held in conjunction with freshman convocation at LSU. Rep. Charles McDonald, chancellors from participating universities and legislators have been invited to attend.
Lenders and schools participating in the Federal Family Education Loan Program (FFELP) should have received the new edition of the Common Manual. This edition replaces Common Manuals in use before July 1998 and reflects policy changes introduced between May 1997 and April 1998. The Common Claim Initiative, a standardization of claim and pre-claim assistance policies and forms, is also introduced in this update. If you have not received the July 1998 edition of the Common Manual, please contact the Customer Services Division at (800)259-5626, Ext. 1024.
Support Services Division Looks Ahead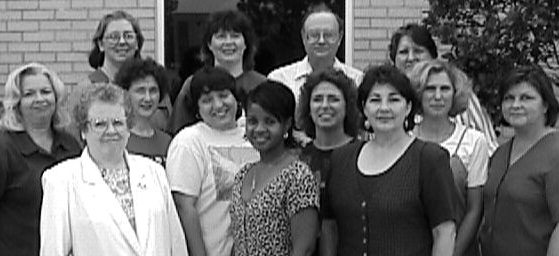 The Support Services Division of the Louisiana Office of Student Financial Assistance (LOSFA) offers crucial assistance to every aspect of the agency's operations, from mail to payroll, from property control to fiscal management, from personnel to building and maintenance issues.
Thirteen is the Support Services Division's lucky number. Leading the 13 members of the Division staff is Connie Almond, who is now in her thirteenth year at LOSFA. Almond is especially proud of two achievements of her division. One is the staggeringly complex but successful transition from the state's old accounting and purchasing system (FACS) to ISIS, a change that involved both Fiscal and Administrative Services sections and for which staff received special training.
The other and "our biggest plus," according to Almond, is the incredibly low turnover rate of this division, which Almond attributes to good communication and a teamlike atmosphere. She mentioned that she sends E-mails of every executive meeting to all her staff so that everyone is as informed about the workings of the agency and her division as she is.
"The growth of our division from a Fiscal Department through the addition of Administration Services and five years ago the addition of Human Resources reflects the growth of the agency," she said. "Our agency budget of nearly $66.5 million represents more than a 45 percent increase over last year. Our General Fund appropriation has soared more than 103 percent this past year. This has generated a need for 16 new positions and will provide over $36 million for more than 15,000 TOPS awards and $60,000 for the Tuition Repayment Program for Medical School Students."
The Division is divided into three sections, Administrative Services, Fiscal and Personnel. Not attached to any particular arm of the division, Melba Heumann, Accountant Administrator and Almond's "right hand man," has been with the agency for 20 years. Heumann compiles and submits financial statements and budget reports to the state of Louisiana and otherwise works with LOSFA's budget.
Sharon Chandler leads the five members of the Administrative Services team responsible for purchasing and receiving and mail processing. The Purchasing/Receiving section procures goods and services used by LOSFA, including office supplies, equipment, printing and equipment rental. Staffers maintain and distribute office supply stock within the agency and maintain control of all movable property. This versatile section also serves as coordinator and liaison for telephone services and building and maintenance issues.
It is this last function of Administrative Services that will put it to the test in the coming months. Chandler and her staff will be finalizing LOSFA's renovation plans to accommodate additional staff required for agency operations. Areas housing the Scholarship/Grant Division and the Customer Services Division are slated for the most extensive renovations, but Administrative Services will undergo its own expansion of staff for mail operations. Furthermore, if plans to add imaging capabilities for records management go through, Administrative Services will house the equipment and staff to support that service.
The Mail Processing section, led by Nell Rivet, sorts and delivers all incoming mail, processes all outgoing mail and provides in-house and inter-agency messenger service. Every check and all monies go directly to the mailroom for processing before being sent to Fiscal for deposit.
"The most interesting part of Fiscal," said Janet Whitehead, head of this section and agency employee for 11 years, "is the flow of the money. We make sure we receive everything we are due and that we pay only what is owed." Fiscal handles the flow of money between lenders and LOSFA, from LOSFA to vendors, from START participants to investment accounts, from Scholarship/Grant to schools, from borrowers to Collections, from the U.S. Department of Education to LOSFA and back again.
"Accurate federal reporting is important to the agency because certain calculations are based on the reports we submit to USDE. Administrative Expense Allowance (AEA) is determined by the amount of loan guarantees minus cancellations," Whitehead said. "LOSFA receives .85 percent of its loan volume each quarter, and we want to be correct about the amount. We are reimbursed for the amount we pay out in claims. Also, we receive Special Pre-claims Allowance which is 1 percent of the borrower's outstanding balance at the time the pre-claim is filed."
Debbie Landry, who has been with the agency for 12 years, heads the Payroll Unit. She sees her main duty as keeping employees' paychecks flowing smoothly. When a new employee joins LOSFA, Landry factors in all the options available to them such as the various forms of medical insurance available -- State Employees Group cafeteria plan, dental insurance, life insurance -- and other features such as direct deposit.
Personnel's Margaret Webb guides LOSFA's 136 full-time employees through the maze of Civil Service rules, federal and state employment laws and insurance and retirement plans. She disseminates agency policies and procedures regarding unemployment, workers' compensation, safety, affirmative action and other agency programs. She asssists management in resolving disciplinary and other special employee problems and coordinates on-going training programs related to safety, health and employee benefits. This section develops and maintains the Employee Handbook which explains the agency's employment policies, work rules and employee benefits.
Support Services is closely monitoring proposed guarantee agency financing models which will drastically change LOSFA's accounting structure and revenue stream for the Federal Family Education Loan Program (FFELP). In addition, Support Services must also prepare monthly revenue and expenditure projections and submit an annual budget request based on the Agency's annual strategic (or business) plan, which for 1998-99, is in excess of $66.4 million.
Students May Still Take ACT to Qualify for TOPS Scholarship
Students seeking to take advantage of Louisiana's new college tuition scholarship but who missed one of the qualifying deadlines are being given a reprieve. The Louisiana Student Financial Assistance Commission has implemented an emergency rule allowing 1997 and 1998 high school graduates who did not take the American College Test (ACT) prior to high school graduation, a chance to take the test to qualify for TOPS, the Tuition Opportunity Program for Students. These students now have until the October 1998 national test date to take the ACT.
Students affected by this change must still meet the other requirements for TOPS, including earning the necessary high school grade-point average and satisfying core curriculum requirements.
Students who took the ACT prior to high school graduation but did not receive a score high enough to meet TOPS qualifications will not be allowed to re-take the ACT after graduation from high school in an attempt to qualify. A minimum ACT score of 19 is required for 1997 and 1998 high school graduates to qualify for TOPS.
Those students with so-called "residual " ACT scores who have never taken a standard ACT test may take advantage of the Commission's action and take the official test through the October national test date in an attempt to qualify for TOPS. A residual ACT test is scheduled and scored by an institution other than ACT. Because all aspects of the residual test are not taken under ACT auspices, it is not accepted by other institutions and is not accepted as a qualifying ACT score for purposes of TOPS.
Tax Exempt Legislation Set for Veto
National legislation in the works to exempt tuition savings programs — including Louisiana's START Savings Program — from all federal income taxes may not come to pass. President Clinton has expressed his support for this aspect of the Parent and Student Savings Account PLUS Act. However, other measures tacked onto it which do not meet his approval may result in a veto.
At present, federal taxes on START earnings are deferred until disbursement of funds for qualified higher education purposes. Earnings are then taxed at the Beneficiary's rate and not at the rate of the Account Owner. Provisions of the federal legislation, as approved by both the House and Senate, would have exempted savings from federal income taxes even upon disbursement, as long as disbursements were used for qualified higher education expenses.
START's current provision of taxing earnings at the Beneficiary's rate and not the Account Owner's meant an additional savings to the Beneficiary since his rate would be generally lower than the Account Owner's. If signed by the President, the Parent and Student Savings Account PLUS Act would make earnings on START Savings Accounts totally exempt from taxes.
The Act's Congressional supporters have indicated that they may attempt to tack the tax exemption and other sections of the Act supported by the President onto other legislation if the Act is vetoed.
START stands for Student Tuition Assistance and Revenue Trust Program. It is an innovative program designed to assist parents with the financial burden of paying for their child's education after high school. Tuition assistance grants are added to an Account Owner's savings based on income. These grants increase the amount of funds available for tuition, fees, books, room, board, supplies and equipment required for enrollment or attendance at any eligible postsecondary institution. START earnings are exempt from state tax.
The open enrollment period for START began July 1 and runs until November 1. Enrollment for children less than one year old is year-round. For an application or more information, write P.O. Box 91271, Baton Rouge, La. 70821-9271, or call (800) 259-5626, Ext. 1012.
Guidelines Set for Disability-Discharged Loans
The Common Manual has published new guidelines in regards to students who have defaulted on previous loans and had them forgiven due to total and permanent disability and who are seeking new loans. Before disability-discharged borrowers can borrow additional loans, they must
• Obtain a physician's certification that they are able to engage in substantial gainful activity
• Sign a statement acknowledging that any new Federal Family Education (FFELP) Loan cannot be canceled in the future on the basis of any impairment present when the new loan is made, unless that impairment substantially deteriorates.
Until LOSFA is notified otherwise, students with disability-discharged loans who are applying for additional aid should have the above mentioned physician certification and signed statement.
Students should follow these helpful hints when applying for scholarships and grants.
START EARLY. Plan for next year now.
Read reference books in the library. Look for scholarship information in newspapers and magazines. Every time you notice the word "scholarship," jot down the application information and then respond if you qualify.
Look for scholarship information on bulletin boards in various academic colleges — including Admissions.
Ask for scholarship applications in the academic college in which you are enrolled.
Check with civic clubs, your church and professional societies from your home town area.
Check to see if your parents' employers offer scholarships to children of employees.
Make and maintain good grades. Though not all aid is based on grades, the better your grades are, the better your chances to receive a scholarship or grant.
Send a thank-you to those who award you a scholarship or grant.
Keep a copy of each completed application. These will be an excellent source for completing your résumé.
Be neat, complete and honest in completing all applications. If at all possible, have the application neatly typed.
Apply! Somebody is going to get the scholarship money — why shouldn't it be you?
Skip Tracing Requirements Clarified
Current Common Manual policy does not address skip tracing requirements following notification of the reversal of a payment. To conform with the Common Claim Initiative, Common Manual subsection 8.1.I. will be revised to clarify that skip tracing activity is not required if both the following conditions are met: The lender has mailed a timely final demand letter
The borrower's loan becomes 151 days or more delinquent (211 days or more delinquent for loans payable in installments less frequently than monthly) as a result of a reversal of a payment
This change will be enforced for payments reversed on or after September 1, 1998.
This notice clarifies the appropriate effective date and trigger event for the policy change discussed in the article Address Skip Tracing Requirements Clarified in the Louisiana Office of Student Financial Assistance's (LOSFA) LPM L98-4 dated May 14, 1998 under the group of articles titled "Common Skip Tracing Requirements."
Click here

to return to July Newsline Topics
Click here

to return to Newsline Home page