The Free Application for Federal Student Aid (FAFSA) for the 2017-2018 academic year became available on October 1, 2016.
Think it is complicated to fill out a FAFSA? Find out how easy it is to get money for college.
FAFSA is the primary all-in-one application for state student aid (including TOPS and the Louisiana Go Grant; federal student aid (in the form of Pell Grants, on-campus work-study programs and low interest federal loans; and many campus based institutional scholarships. Previously the application was not available until January.
Think it's hard to qualify for financial aid for college? WRONG. Turns out, you CAN get aid-and Adam Conover will tell you how. (Hint: You start by filling out your FAFSA at https://fafsa.gov.)
Students will also often find that the earlier they apply, the more money is available to them in the form of scholarships and grants which do not require repayment. Many, if not most, campus based aid, and some campus-selected recipients of federal aid, are drawing from finite pools of funding on a first-come, first-served basis.
To facilitate early FAFSA availability, the tax forms to be used in completing the document are now from "prior-prior" year taxes. Thus, 2015 student and parent federal tax returns will be used in completing the 2017-2018 FAFSA.
As Louisiana's first choice for college access, LOSFA has a number of ongoing FAFSA completion assistance initiatives in progress. Among them are:
Louisiana College Application and Access Month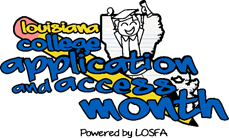 The Louisiana Office of Student Financial Assistance has collaborated with key education partners in the State of Louisiana to develop and implement Louisiana College Application and Access Month for high school seniors in October 2016 as part of the American College Application Campaign.
The American College Application Campaign (ACAC), an effort of the American Council on Education (ACE), is a national initiative to increase the number of first-generation and low-income students to pursue a postsecondary education. The purpose is to help high school seniors navigate the college admissions process and to ensure that each participating student submits at least one admissions application.
Click here for a listing of Louisiana College Application and Access Month LCAAM dates, times, locations and services to be offered.
FAFSA Challenge Grant
The FAFSA Challenge Grant was awarded by NCAN to LOSFA for the City of Baton Rouge as one of 22 U.S. cities selected to receive $54,000. The grant aims to raise FAFSA completion rates among high school seniors in East Baton Rouge Parish by 10 percent for the graduating class of 2017. Schools with the highest growth of FAFSA completion will win school and individual prizes. 11 EBR public schools are participating in the challenge, which is targeting over 2,000 students.
FAFSA Fridays
FAFSA Fridays occur every Friday in October where parents of students in East Baton Rouge Parish and surrounding areas will have the opportunity to complete the parent portion of the FAFSA including obtaining their FSA ID. Applications completed will count toward individual high school goals for the FAFSA Challenge Grant. The sessions will be held every Friday in October from 10 am to 5 pm in the Claiborne Conference Center Computer Lab. Other locations include area libraries and churches. There are currently over 10 FASFA Friday events scheduled.
LOSFA Trailblazer Ambassadors
The LOSFA Trailblazer Ambassador Leadership Program enhances the mission of promoting and providing college access through student engagement and outreach. Trailblazers aid in fostering a college-going culture among their peers by participating in LOSFA-sponsored and school based college access events. Trailblazers will also assist their peers and their peer's parents with obtaining their FSA ID's and completing the FAFSA. There are currently 54 Trailblazer Ambassadors across the state.
FAFSA Ambassadors
FAFSA Ambassador Student leaders were nominated in eight (8) Baton Rouge area public high schools to serve as FASFA Challenge Grant Ambassadors. These students will help to facilitate the challenge at the school level. The ambassadors are also tasked with coming up with creative ways to get their fellow students to participate and complete the FAFSA. There are currently 12 FAFSA Ambassadors located in EBR.
LOSFA Go Alliance Academy
High school counselors, teachers, and administrators from 17 Louisiana high schools will participate in the LOSFA Go Alliance Academy Module Three online course, "Financial Aid and College Applications." The 19 participants registered will learn how to assist parents and students with understanding the cost of postsecondary education options and with exploring the types of aid students can receive based on the FAFSA. LOSFA partners with the Louisiana Counseling Association to allow participants to earn 30 CEUs upon successful completion of the course. There are currently 7 unique college and career readiness Go Alliance Academy courses that can be offered.
FAFSA Office Hours
A LOSFA representative will be online for real-time chat support to assist applicants with completing the FAFSA. Office Hours will be held during the dates listed below from 5pm to 7pm.
Wednesday, October 26
Monday, October 31
Form Your Future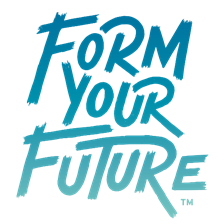 Form Your Future: http://formyourfuture.org/
Links to Resources for FAFSA Completion:
FAFSA on the Web: www.fafsa.ed.gov
US Department of Education: www.studentaid.ed.gov
Unlock My Future: www.unlockmyfuture.org